The Digital Marketing Canvas
A practical guide to develop a strategy to accelerate business growth.
The DMC is a tool for Design Thinking.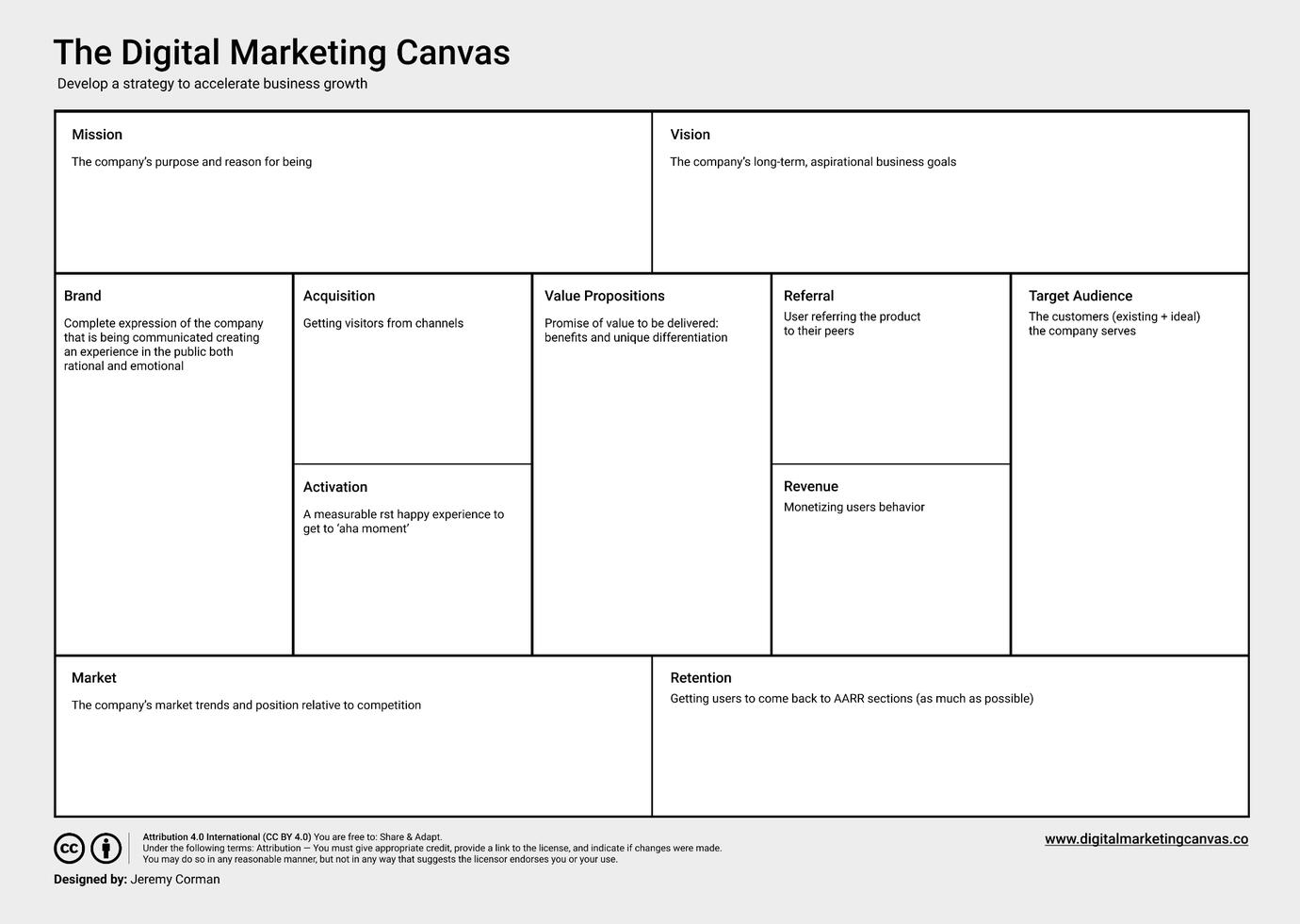 The DMC is a tool of Co-Creation
Marketers, Entrepreneurs, Developers, Designers... get everybody around the table!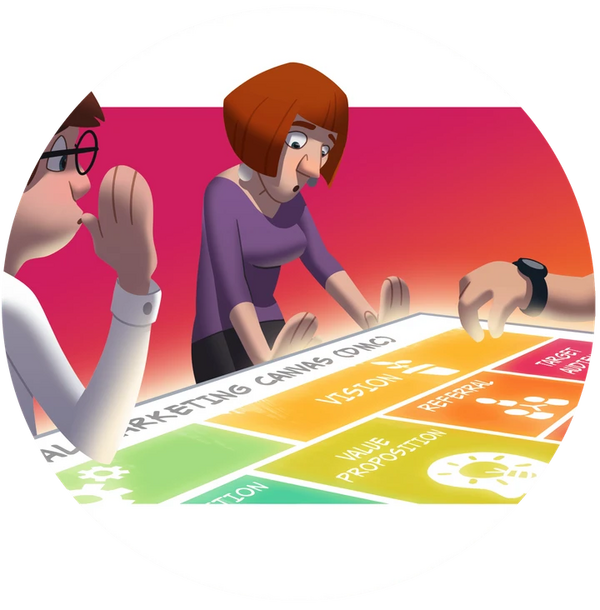 Brainstorm
---
New ideas with your teammates
A poster is what you need to co-create.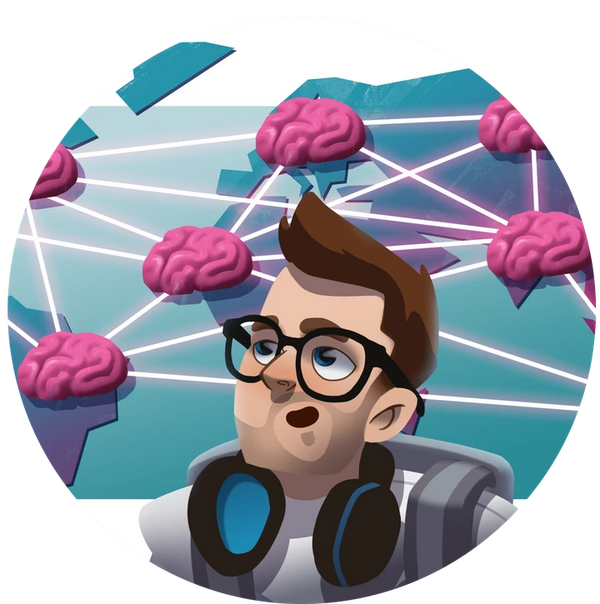 Learn
---
Marketing fundamentals & customer journey
Learn how marketing fundamentals and online customer lifecycle work together.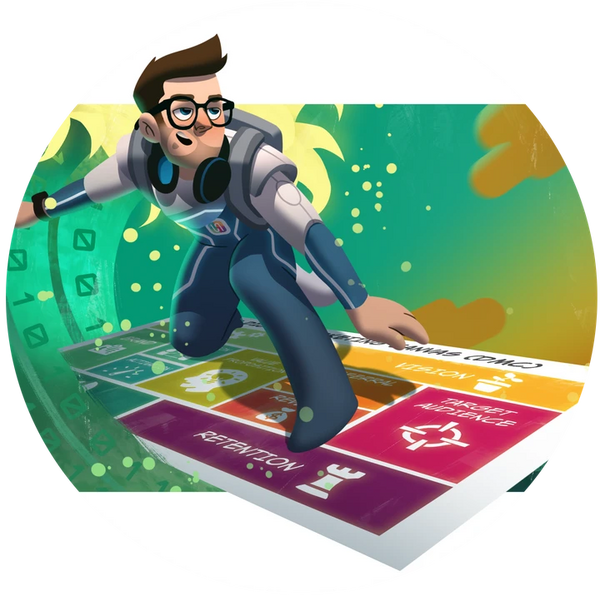 Build
---
Better marketing strategies
Find the right digital strategy for your company.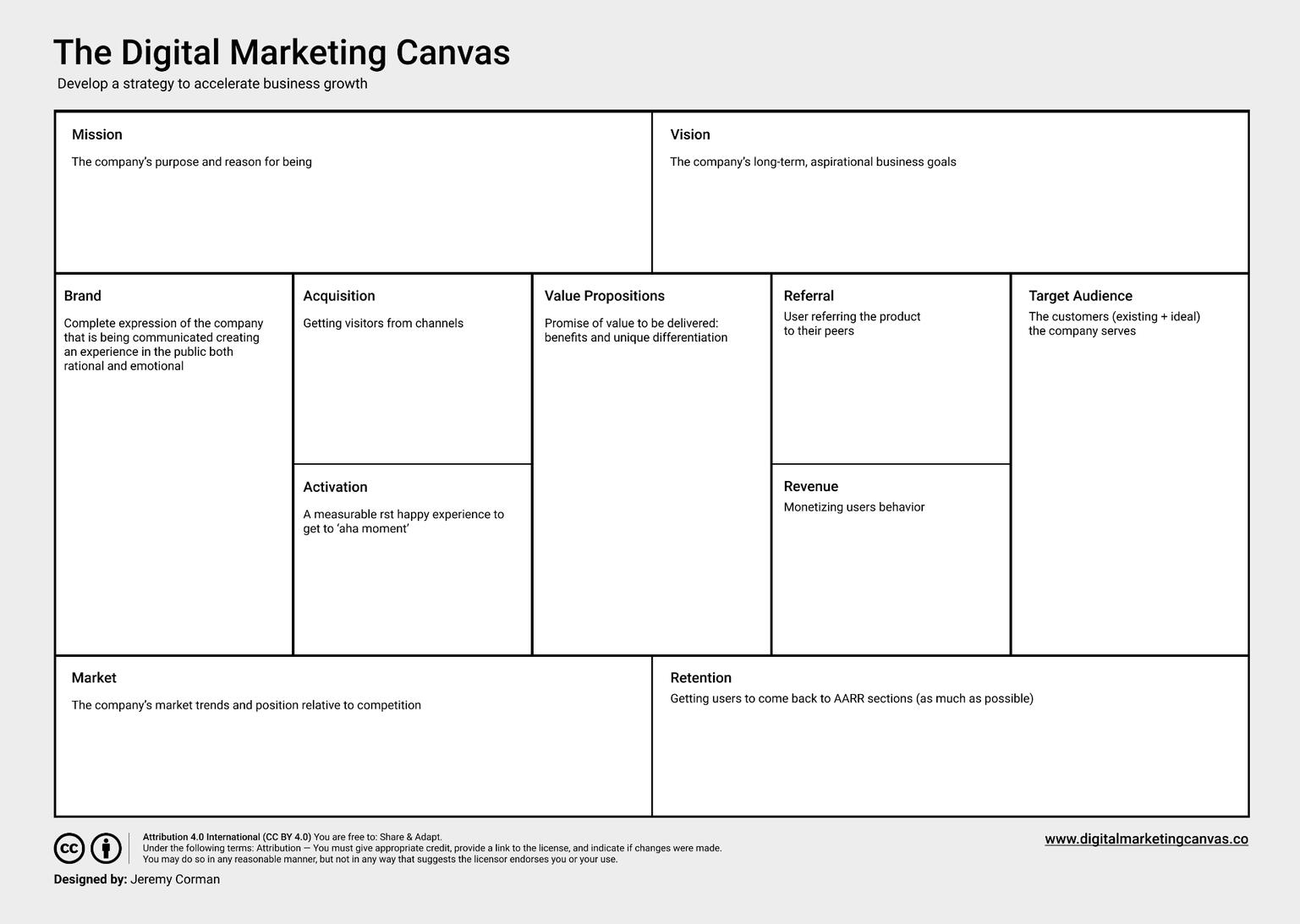 This work is licensed under a Creative Commons Attribution-Share Alike 3.0 Unported License.To view a copy of this license, visit: creativecommons.org
Thousands
of downloads every month
129 nationalities
have used the canvas
Hundreds of workshops
organised across the world
Lemonade
The insurance industry is an unloved sector. Also, insurers are old and have been unchanged for a long time. Can you see the opportunity?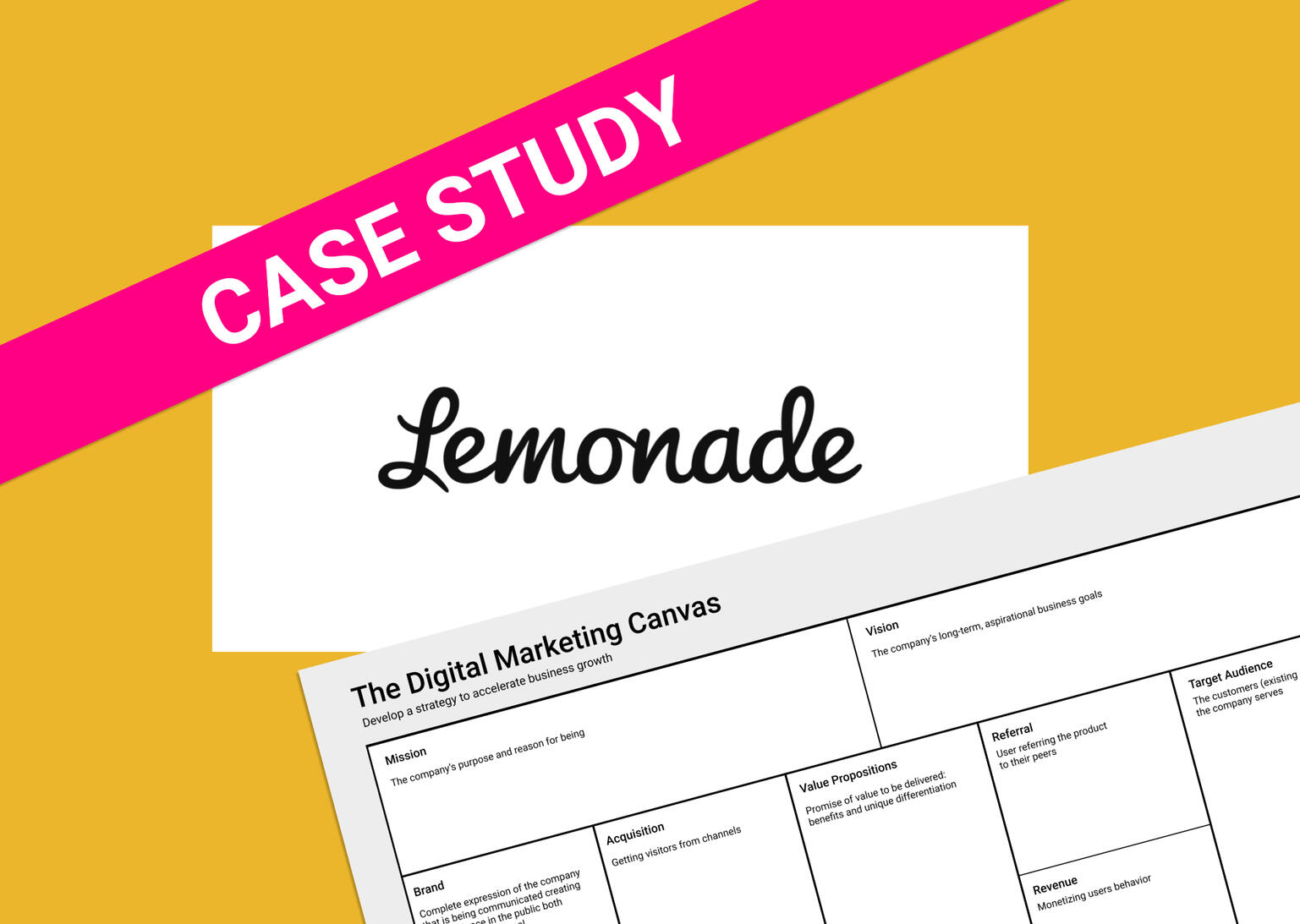 I've experienced Lemonade as a customer in California for a year and realized that Lemonade has built an innovative business model and a lovable brand. The main reason is:Lemonade keeps 25% as a flat feet, 75% left is to pay claims and if there's money left over at year's end, Lemonade gives back to nonprofits of their customer's choice.—> Main effect: Lemonade has nothing to gain by denying claims, their incentive flips to paying them super fast. That's why Lemonade pays about a third of their claims in a few seconds.
—> Side effect: the giveback to nonprofits creates a cause to pursue. Therefore a sustainable relationship is created with the customers. It has been crucial for millennials, their primary target audience (see the different NPS drivers: traditional customers vs millennials).A solid case study that should inspire any businesses that 'feel like being stuck' in an old system.Illustrated here by:
> Digital Marketing Canvas
> Business Model Canvas
> Maslow's hierarchy of needs
> SWOT analysis
> AARRR Model
> Net Promoter Score
Airbnb
What can we learn from the Airbnb's marketing strategy? May this use case serve as a source of inspiration for your own work.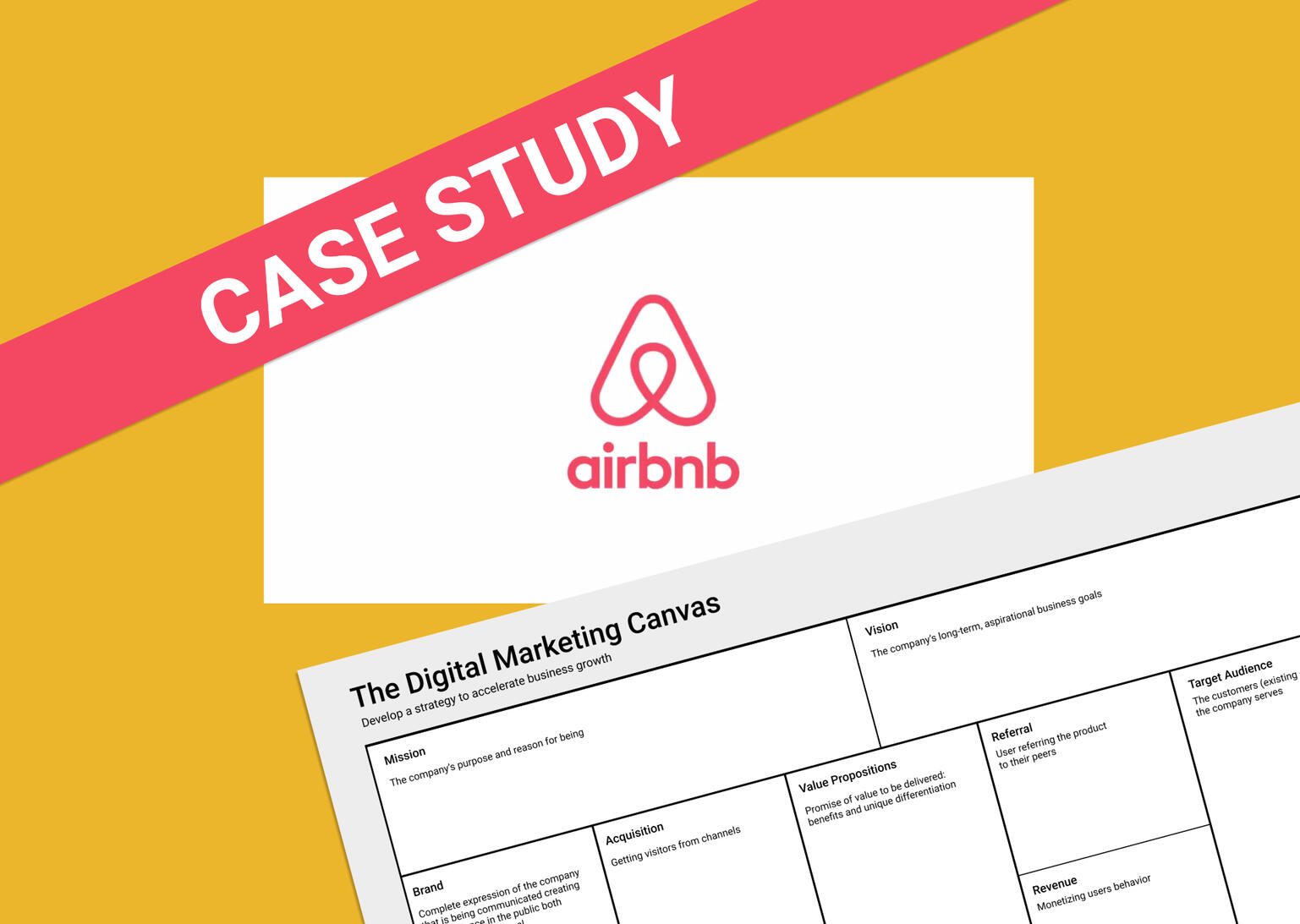 When I work on digital strategies, the same questions pop into my mind. How can we make a good story of the brand within the customer journey? How can we connect the dots between customers acquisition and customer retention tactics? How can we sketch out storyboards? What's the appropriate time to talk about mission, vision, value propositions,…?I often use analogies when my mind goes blank. Because the brain works like an association machine. The brain likes connections, relationships, patterns…any sense of meaning. This is how my brain came up with something he knows pretty well: Airbnb.Now, what can we learn from the Airbnb's digital marketing strategy? Above all else, Airbnb is a fascinating story of "pure, unadulterated hustle". To me, Airbnb is also a perfect alchemy between the marketing fundamentals and the customer journey.Let's map it out on the:
> DMC
> Business Model Canvas
> Maslow's hierarchy of needs
> SWOT
> AARRR
> Net Promoter Score (NPS)
> AIDA Model (Attention, Interest, Desire, Action)
Introducing the Digital Marketing Canvas (DMC)
I wish I came across this thing much earlier. Like 5 years ago. When I had no idea what I was actually doing in my day-to-day work at a startup. Making from 0 up to €500K a week.
Read more
I've automated my job before firing myself
You can't stop it. You can't escape it. You can't ignore it. You can't call politics, army, officials or your mom to save you. It's really violent and your business can be vanished because of it. Only those who will adapt themselves will be the survivors of the tsunami often called 'Digital Transformation'.
Read more
If Digital Marketing was like soccer
Last weekend I was watching the game and told to myself what I would have done differently if I were in the shoes of the coach. Everyone does that.
Read more
Airbnb: inspiration to sketch out your digital marketing strategy (on the DMC)
When I work on digital strategies, the same questions pop into my mind. How can we make a good story of the brand within the customer journey?
Read more
I want you back.
Most CMOs I know have already started shifting their minds from Customer Acquisition to Customer Retention. It's a good thing...
Read more
❝
"I am particularly sensitive to this kind of tool, because it represents a pragmatic tool to stimulate exchanges and collaboration and especially to avoid rushing headlong (...). following this model can avoid huge technological investments to compensate a bad strategy."
Read more (in French)
Fred Cavazza - Marketing technologist and speaker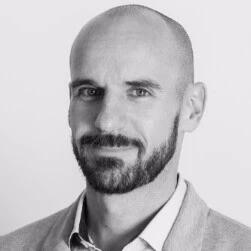 Plan your next marketing project
> Design your Value Proposition and Brand DNA
> Document your SWOT Analysis
> Plan your paid campaigns architecture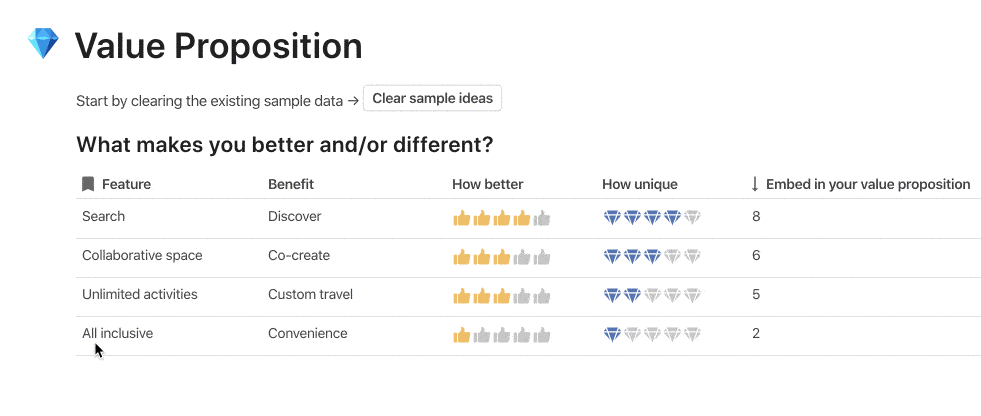 Sketch out your value proposition
---
Collaborate with your colleagues or clients
Brainstorm around the benefits and what makes you better and/or different?
See what stands out.
Learn how to build a good
Minimum Viable Brand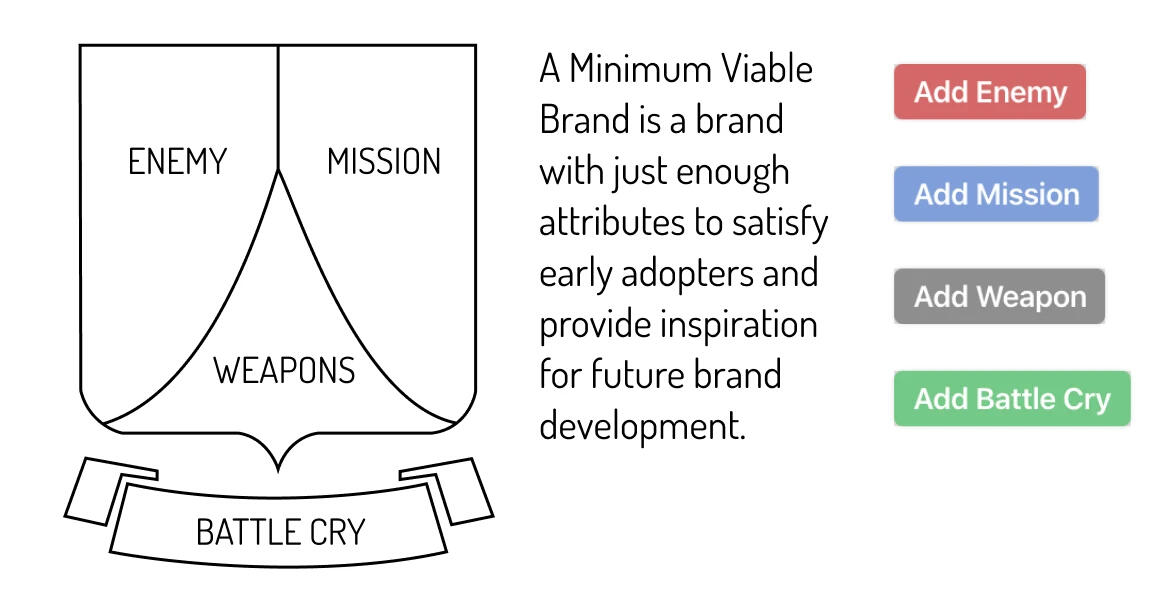 Find your Why
Mission & Vision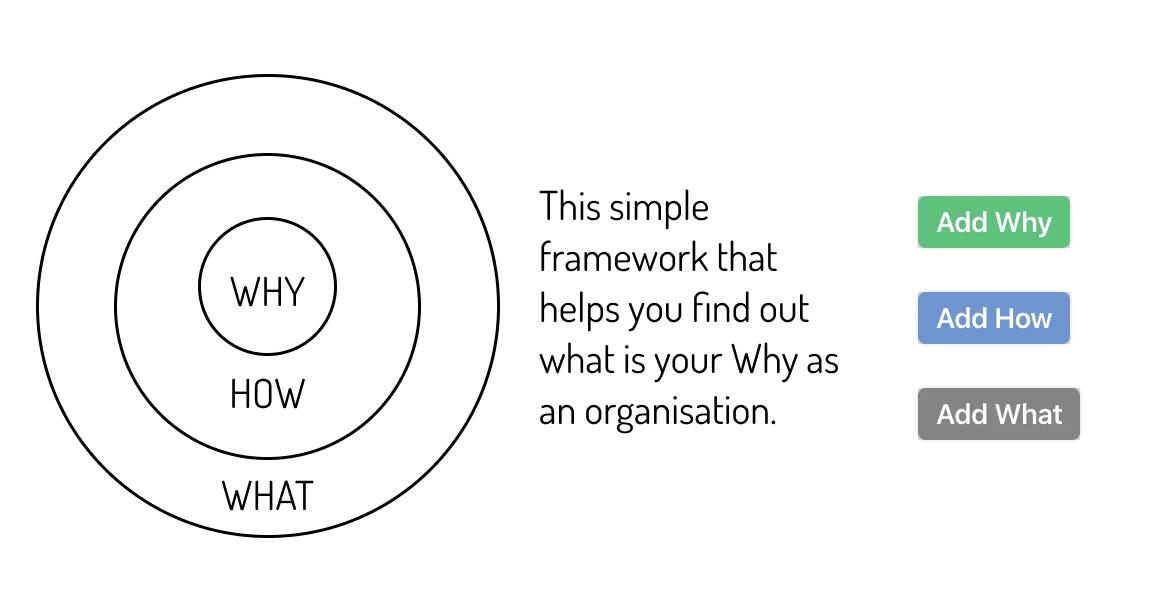 Document your
SWOT analysis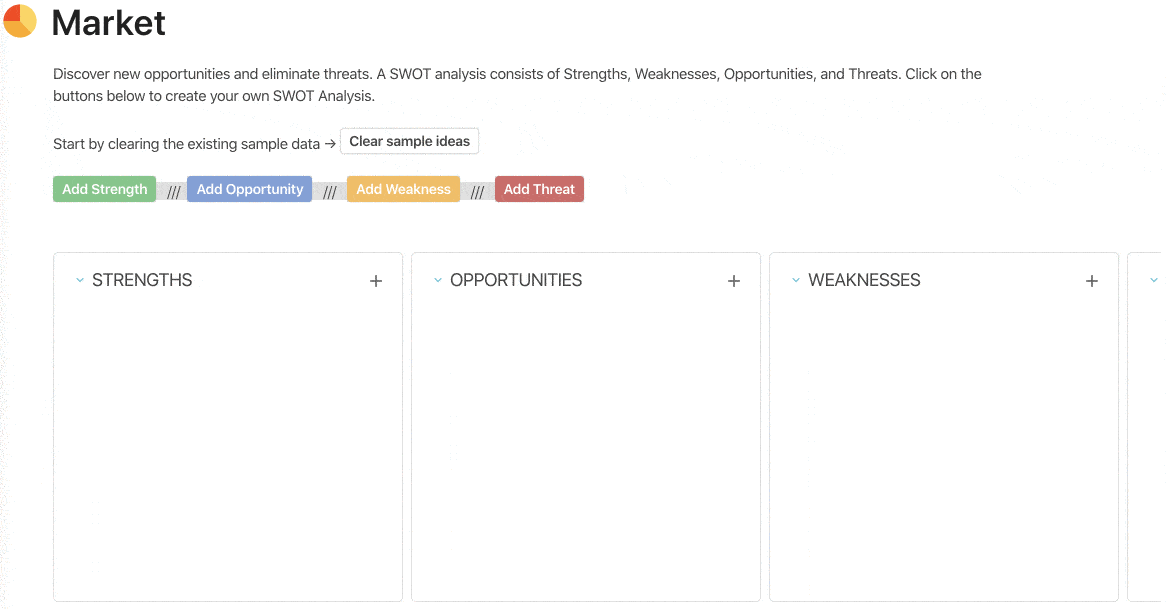 Audience segmentation
---
Customer journey overview
The most classic mistake brands do when managing ads accounts is about lack of clarity in segmenting and how many people in each segments (personae if you like) have been reached.Now, users can easily add new segments and its size then see for themselves how much of these audiences have been covered by their campaigns. Finally it's getting a lot easier to get actionable insights.
Allocate budgets based on audience size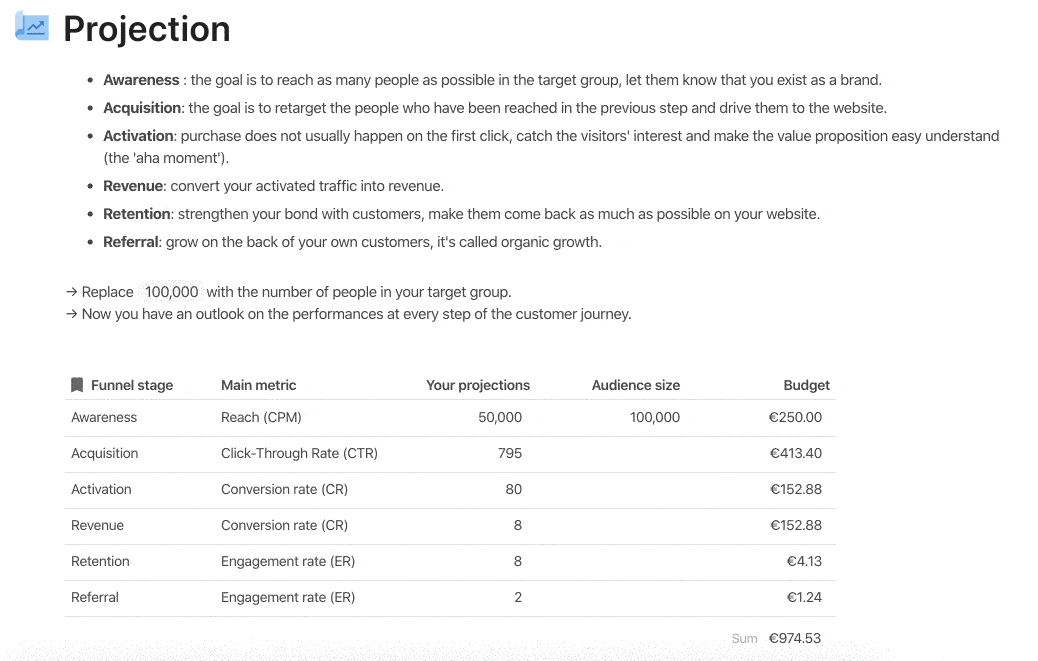 Allocate budgets based on your objectives and benchmarks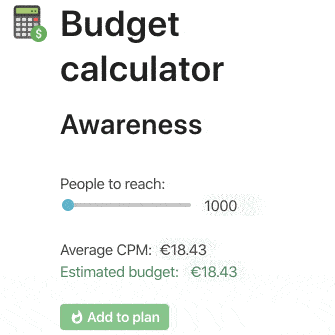 This tool is made with Coda.io, an editable and collaborative document. You just need to copy the document to start using it.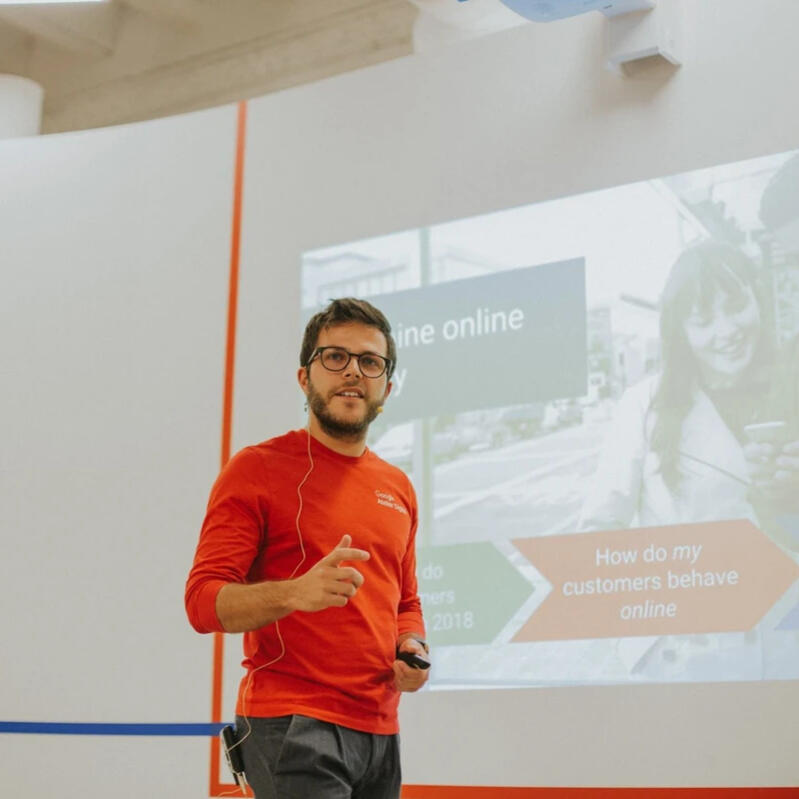 Founder of the Digital Marketing Canvas👋Hi, I'm Jeremy and I help businesses design marketing strategies
My name is Jeremy Corman. For the past 10 years, I've been helping businesses find their ways to growth. I've built Plunch.net (helping energy providers acquire clients on the back of comparison websites) and Gatekeepr (helping organisations build better brands on the back of Social Media). I've co-founded a global community called Café Numérique organizing tech events in more than 20 cities in the world and launched a podcast called Café Sans Filtre.
Marketing Canvas
A marketing canvas is a framework for developing new marketing strategies and documenting existing ones. It's a visual poster with "building blocks" of the marketing fundamentals to help a marketer or a marketing team brainstorm new ideas.The Marketing Fundamentals are:
- The target audience
- The value proposition
- The brand
- The market
- The mission and vision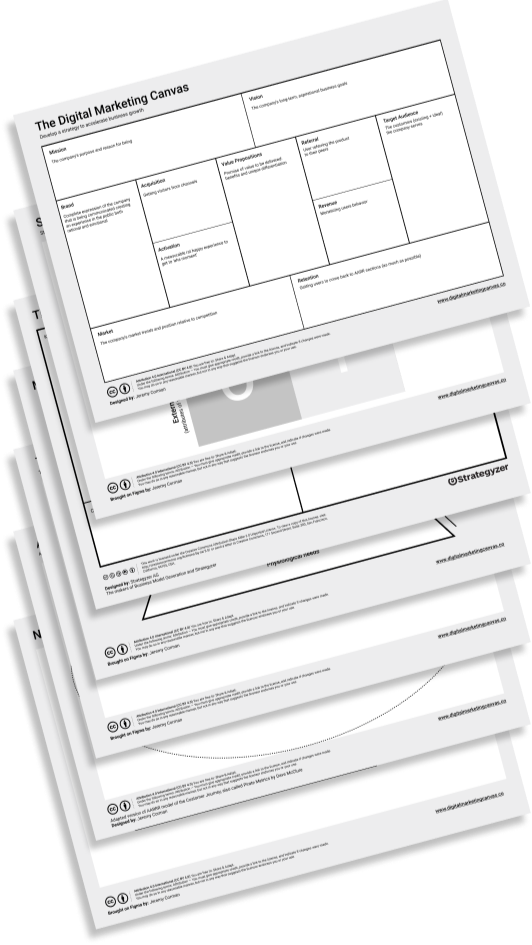 Why is it important to use a Marketing Canvas?
Simply put, the marketing canvas helps you analyze the marketing situation, ideate marketing solutions, and document the strategies.A canvas is not a plan, but a guide for planning. It's the ideation step of the Design Thinking process.An organization should use a canvas when there's a need of inspiration and when the stakeholders are not necessarily aligned on a new strategy. Sometimes, the reason is they do not understand each other or that they are too attached to their own ideas and beliefs. In such situations, a marketing canvas will:Become a single language that everyone understand
Leverage a sense of ownership to everyone involved in the workshop.
How to use a Marketing Canvas?
The Marketing Canvas is a process you can use to see where your business stands, and gives you a clear-cut path for success. Before proceeding with the canvas, it's important to understand the different steps in the process.Rules :
- Use sticky notes
- Don't use bullet points on sticky notes
- 1 idea per sticky note
- No censorship
- Number of persons: 1 to 6 max.Involving someone who can help explain marketing concepts and keep an eye on timing is ideal.The workshop can be organized in remote using a tool such as Figjam and Coda.
What are the Marketing Canvases?
History
The canvases were mostly inspired by the Business Model Canvas (BMC) proposed by Alexander Osterwalder in 2005. Alternatives forms have followed such as:- Lean Canvas
- Value Proposition Canvas
- Mission Model Canvas
Marketing
The Digital Marketing Canvas
When it comes to marketing per se, the most popular marketing canvas is the Digital Marketing Canvas (DMC).The Digital Marketing Canvas is eleven building blocks:- Six building blocks to develop the marketing fundamentals.
- Five building blocks to design the customer journey strategy based on the AARRR framework.
The Marketing Fundamentals Canvas
Six building blocks to build solid foundations for a marketing strategy.All traditional marketing frameworks can be used in workshops or brainstorming sessions.
The Maslow's hierarchy of needs
Maslow's hierarchy of needs is used to study how humans engage in behavioral motivation. It is a theory that categorizes human motivation into five areas of need: physiological, safety, love and belonging, social, and self-fulfillment.
The SWOT matrix
SWOT analysis is a strategic planning technique helped a company identify strengths, weaknesses, opportunities, and threats related to business.
The AIDA Model
The AIDA model stands for attention, interest, desire and action. It describes the process that a customer goes through when purchasing a product.
5-Fits Canvas
This decision-making framework often stuns founders with how powerful it can be.- Plan your startup's growth.
- Make the right decision early on to avoid years or months of trial and error.
- Research how competitors and other companies grow (and discover why some are able to grow while others cannot).
- Discover when, why, and how to implement changes within your startup, as well as how to run experiments with purpose.
- If you don't have the right foundation, you're likely to fail.The amount of work you put in or your clever tactics will not matter. Growth will be impossible if your fits are broken.This framework is inspired from HubSpot, Reforge and DemandCurve communities.
Conclusion
When using a marketing canvas method?
Marketing canvas are used to turn a thesis into a collaborative process that generate new ideas and perspectives for a business. It clarifies things so we can understand them better. You can pick a canvas in the above list, turn an existing marketing concept into a canvas or even create your own.
Who should use these tools?
Managers, co-workers, founders, freelancers. In short, anyone in the enterprise who needs to worry about the company's marketing and how to improve it.
Write your Value Proposition like Copywriting Experts,
without writing them
Get access to high converting value propositions.
Generate hundreds of value propositions for your product or service, simply by answering a few questions.